30 Minute Lamb Grill for Two
by Ben Bartlett from BBQ Owners' Grilling Manual: A Guide to Cooking with Grills, Chimeneas, Brick Ovens and Spits (Haynes Owners Workshop Manuals)
Serves 2
Transform traditional lamb chops with this simple marinade.
Ingredients
4 lamb loin chops (225g or 8oz)
1 tbsp light soy sauce
2 tsp sesame oil
1 chopped onion
1 garlic clove minced
2 tsp chopped ginger
2 tsp honey (Nigel's addition)
Pinch of salt and pepper
Method
In a shallow dish, whisk together the soy sauce, oil, onion, garlic, ginger, honey and pepper.
Add the lamb, turn to coat, and let the meat stand in the mixture for 10 minutes.
Place the lamb on a greased grill over a medium-high heat.
Cook for 5 to 7 minutes on each side for medium-rare or longer if desired.
Salt to taste.
Ben's Top Tip
Use unsweetened apple juice applied with a misting spray. Use a plastic hand sprayer available from barbecue shops, garden centres and the internet. This gives all meat a bit more caramelisation.
Nigel's Top Tip
The lamb can as easily be cooked in a griddle or frying pan if your barbecue isn't to hand. Temperature & cooking times remain the same. Also use the marinade on sliced courgettes & par boiled corn & the cob.
by Joanne Harris & Fran Warde
from The French Kitchen (Doubleday)
This simple pudding can also be made with other soft fruits, such as apricots, plums, peaches, blackberries & blackcurrants.
Preparation: 40 minutes
Cooking: 1 hour 10 minutes
Serves 6
Ingredients
15g butter for greasing
750g cherries, pitted
125g flour
50g unrefined caster sugar
3 eggs
1 tsp vanilla extract
300ml milk
Unrefined icing sugar for dusting
Method
Heat the oven to 180C / gas 4.
Butter a shallow ovenproof dish. Place the cherries in the dish.
Put the flour and sugar in a large bowl and make a well in the middle.
Whisk the eggs; add the vanilla and milk to the eggs and whisk.
Slowly pour the milk mix into the flour, beating constantly until all the liquid has been added and you have a smooth batter. Pour over the cherries.
Bake for 40 minutes until the batter is firm to the touch and golden on top.
Sprinkle with icing sugar and serve just warm.
Puttanesca – Courtesan's Spaghetti
by Katie & Giancarlo Caldesi
from The Long & Short of Pasta (Hardie Grant)
Photography by Helen Cathcart
It is said that the ladies of the night would make this quick sauce for extra energy using their store-cupboard ingredients. However, our friend Michelina, showed us this version made with fresh cherry tomatoes rather than the canned variety. I absolutely love the punchy, spicy flavours & cook it regularly for quick lunches.
Serves 4
Ingredients
3 tbsp extra-virgin olive oil
1 large garlic clove, lightly crushed
½ - 1 fresh red chilli, finely chopped
2 heaped tbsps black olives, pitted & halved
1 heaped tbsp capers, drained & rinsed if salted
6 anchovy fillets
Large handful of parsley, finely chopped
350g (12oz) cherry tomatoes, quartered
Salt, if necessary
350g (12oz) spaghetti, to serve
Method
Make sure you have all the ingredients to hand & then cook the pasta in a large pan of well-salted boiling water.
Heat the oil in a large frying pan & fry the garlic & chilli, followed by the olives, capers & anchovies. Stir frequently to break up the anchovies.
Add the parsley & stir through.
After 2 mins, add the tomatoes. Taste the sauce & season if necessary.
Cook for another couple of mins.
When the pasta is ready, use tongs to lift it from the saucepan directly into the frying pan, along with a tablespoon of cooking water to lengthen the sauce.
Serve immediately.
Variation: use tinned tomatoes instead of fresh, & instead of the anchovies, gently stir through good-quality tinned tuna at the last minute.
Pineapple & Treacle Pork Chops
From Delicious Magazine July 2019 issue(deliciousmagazine.co.uk)
Recipe: Matt Moran
Serves 4
Hands-on-time 30 min
Plus 30-60 min marinating
Make Ahead: Make the marinade up to 1 day ahead. Add the pork chops to it 1hr ahead.
Ingredients
4 x large British free-range pork loin chops
For the pineapple & treacle marinade
200ml pineapple juice
60ml apple cider vinegar
80ml treacle
2 garlic cloves, crushed
1 jalapeño pepper, finely chopped
1 tbsp extra-virgin olive oil
Method
1.Arrange the pork chops in a single layer in a glass/ceramic dish. Mix all the marinade ingredients in a bowl, then pour over the pork. Turn the pork over to coat completely, then cover with cling film & chill for 30-60 mins (see Make Ahead).
2.When ready to cook, remove the pork from the marinade (keep the marinade) & bring to room temperature. Heat/light your barbecue (if using charcoal, wait for the coals to turn white/grey).
3.Put the reserved marinade in a pan, put over a medium heat bring to a simmer. Cook carefully, swirling the pan (the treacle can burn quickly), for 5-6 mins or until thick & reduced). Keep warm.
4.Season the pork chops with salt & grill on the hot barbecue for 2-3 mins on each side, turning regularly, until lightly caramelised. Cover with the barbecue lid (or a couple of sheets of foil), then cook for 5 mins more or until cooked through. Transfer to a plate, pour over the reduced marinade, then rest for 10 mins before serving.
Marinating times:
Beef, Lamb & Pork – marinate joints for 1-12hrs.
Chicken Pieces – no more than 2hrs in a strong, acidic marinade or they will toughen.
Fish & Seafood – 15-30min max, although fattier fish such as salmon can marinate for longer.
Vegetables – about 30mins although denser root veg can be marinated for up to 2hrs.
Corn Fritters with Tomato & Avocado Salsa
by Rachel Ama from Vegan Eats (Ebury Press)
Crispy corn fritters, packed with veg & polenta & served with a juicy tomato & avocado salsa – a perfect pairing
Makes 8 fritters
Prep time: 25 mins
Cooking time: 15 mins
Ingredients
For the corn fritters
Kernels from 1 corn on the cob
100g courgettes, coarsely grated
150g peeled butternut squash or carrots, coarsely grated
100g polenta
1 tsp paprika
1 tsp ground cumin
2 spring onions, finely sliced
½ fresh red chilli, deseeded & finely chopped
Small handful of fresh coriander leaves, roughly chopped
100ml oat milk, plus extra if needed (to make your own, see below)
3 tbsp self-raising flour
2 flax eggs (see below)
Olive oil, for frying
Salt & black pepper
For the tomato & avocado salsa
2 ripe tomatoes, roughly chopped
1 avocado, chopped
1 red onion, finely diced
Small handful of fresh coriander leaves, roughly chopped
Juice & grated zest of 1 lime
2 tbsp extra-virgin olive oil
Method
Place all the ingredients for the fritters in a large bowl, season with salt & pepper & mix with a wooden spoon until everything is combined, adding a little more milk if the mixture seems too thick.
Heat a little olive oil in a large, non-stick frying pan.
Add 2 tbsp of the mixture per fritter & then flatten slightly to about 1cm thick.
Fry over a medium heat for 2-3mins or until crispy & brown on the bottom, then flip over & cook for another 2-3mins until crisp & golden on the other side.
Repeat with the remaining mixture, cooking in batches & adding more oil to the pan as needed.
Keep the fritters warm on a baking sheet in the oven on a low heat while you finish making them.
Meanwhile, mix all the ingredients for the tomato & avocado salsa in a bowl, season with salt & pepper & serve with the fritters.
Flax Egg
Best for binding (makes the equivalent of 1 egg)
1 tbsp ground flaxseeds
3 tbsp water
Mix together the ground flaxseeds & water in a bowl & allow to sit for at least 10mins until it becomes gel-like in consistency.
Oat Milk
Makes about 1.25L
100g rolled oats
1 litre water
Pinch of salt
Cover the oats in water in a bowl & leave to soak for at least 1 hour.
Drain the oats, then tip them into a high-speed blender or a food processor, add the water & the salt & blitz until smooth. Take care to not over-mix as the heat from the blender/processor blades can cause the oats to warm up & begin to cook, thus changing the texture of the milk & making it slimy.
Once blended, strain the milk through a muslin cloth into a bowl.
Squeeze the cloth to extract all the liquid & discard the pulp left behind.
Pour the milk into an airtight container & store in the fridge for up to 4 days. (Nigel says if you don't have a muslin cloth, use a coffee filter).
Maya Gold Mousse served with a Bourbon & Mint Milkshake
by James Montgomery from Charles Campion's 'Eat Up!' (Kyle Cathie)
Maya Gold is a dark organic chocolate bar made by Green & Black's. It is dark & rich with a high percentage of cocoa solids & has subtle flavours of citrus & cinnamon. It is widely available in a supermarkets but if it remains elusive use another good quality dark chocolate.
Serves 6
Prep time: 25 mins + 2 hrs chilling, or preferably overnight
Ingredients
6 large eggs (or 8 medium)
200g Maya Gold chocolate
225ml double cream
For the milkshake
Leaves from a large bunch of fresh mint
1 small tub (100ml) good quality vanilla ice cream (Nigel used Morellis from Northern Ireland)
6 shots of Bourbon
Milk (add according to consistency required)
Method
1. Separate the egg yolks from their whites & put the whites into a scrupulously clean mixing bowl. Reserve the yolks.
2. Melt the chocolate in a bowl over a pan of boiling water (do not allow the bottom of the bowl to touch the water). Allow the chocolate to cool but not solidify & mix in the egg yolks – this is a tricky procedure, too hot & the eggs will curdle, too cool & the chocolate will be solid. You are aiming for the perfect mid-point compromise! Fold the cream into the chocolate mixture. (Nigel suggests using a gentle figure of 8 folding technique.)
3. Whisk the egg whites to stiff peaks, then fold into the chocolate mixture. You are aiming to preserve the bubbles & lightness, so do not overwork the mixture. Use to fill six ramekins & chill until set, preferably overnight.
4. To make the milkshake, place the mint leaves, ice cream & Bourbon in a liquidiser & whizz thoroughly. Add milk, a little at a time, whizzing to mix, until you have the degree of milkshake 'thickness' you prefer. Serve in small glasses with the mouse.
Roast chicken with orange, cumin & apricot rice
by José Pizarro from ANDALUSIA Recipes from Seville and beyond (Hardie Grant)
Photography: Emma Lee
José says "This is a classic one pot dish that I often make at home. Every part of the meal is comforting and delicious, but the truly heavenly bit is the crispy anchovy-flavoured chicken skin".
Serves 6
Ingredients
2 large garlic cloves, peeled
2 tbsps extra-virgin olive oil, plus extra for frying
6 salted anchovies in extra virgin olive oil
1 free-range chicken (1.8 kg/3lb 15oz)
sea salt and freshly ground black pepper
2 banana shallots (eschalions), finely sliced
½ tbsp cumin seeds
½ tbsp sweet smoked pimenton de la Vera
1 tbsp hot smoked pimenton de la Vera
500g (1 lb 2 oz) Calasparra rice or another short-grain rice, soaked for 10 minutes in cold water and drained
zest and juice of ½ orange
100 g (3 ½ oz) dried apricots, chopped
1 bay leaf
1 sprig of rosemary
1 litre (34 fl oz/4 cups) chicken stock
small bunch of flat-leaf parsley, roughly chopped
Method
Preheat the oven to 200°C (400°F/Gas 6).
In small food processor or heavy pestle and mortar, blend the garlic cloves with the olive oil and half of the anchovies to a rough paste.
Carefully loosen the skin from the breasts of the chicken and rub the garlic and anchovy mixture underneath the skin.
Season well with salt. Place the chicken in a deep, lidded casserole dish and roast, uncovered, for 35 minutes, until the skin is golden.
Meanwhile, add a little oil to a saucepan and fry the shallots with the rest of the anchovies and a pinch of salt over a medium heat for 5 minutes, or until softened. Add the cumin seeds and both types of pimenton and fry for 1–2 minutes, until fragrant. Mix in the rice, orange zest and juice and dried apricots. Add the bay leaf, rosemary and the chicken stock, bring to a boil, then remove from the heat and set aside.
Remove the casserole dish from the oven, carefully lift out the chicken and place on a chopping board. Add the rice and stock mixture to the dish and place the chicken back on top. Reduce the oven to 180°C (350°F/Gas 4) and roast, covered, for 1 hour. At this point, check to see if the rice is cooked. If needed, add a little more stock and cook for a further 10 minutes.
Remove the casserole dish from the oven and lift the chicken back onto the chopping board, tipping it over the dish first so that any juices run back into the rice. Leave the chicken to rest for 5–10 minutes, loosely covered with foil. Taste the rice, season and stir through the parsley. Place the lid back on the dish to keep warm as you carve the chicken. Dish up onto warm plates with the rice.
by Jakko Jakszyk (vocalist & guitarist with King Crimson)
I first ate this at a restaurant called Melati in Windmill Street just a few doors up from the legendary Windmill theatre in Soho, London. I'd been on a promotional trip to the Netherlands with Dave Stewart and Colin Bluntstone and the record company took us to an Indonesian restaurant for the first time. So back in the UK I hunted down
Melati, which in the 80's was the best. It was run by a very friendly Malaysian woman called Margaret who was always very nice to me. She gave me a printed sheet with a recipe for rending on. So this is that one…..kind of.
Ingredients
600-800g braising steak such as skirt, flank or hangar, cut into 1"/2.5cm sq. chunks
2 tbsp veg oil for frying
4 tbsp (or more if required) cornflour
1 large onion, finely chopped
5 cloves of garlic, finely chopped
2"/5cm piece of ginger, peeled & grated
3-4 red chillies, chopped (quantity depending on how spicy you like it, & remove seeds if you don't want too much heat)
2 tsp tamarind paste
1tsp ground turmeric
1tsp ground coriander
1 tsp ground black pepper
1 tsp salt
½ tsp cinnamon
4 tsp brown sugar (muscovado or similar)
2 cans of coconut milk (normal not the light stuff) shake well before opening
2 Kaffir lime leaves (dried or fresh)
Method
In a pan or wok heat the oil.
Coat the beef in chunks in the cornflour then fry until brown over medium to high heat. If necessary do it in batches to avoid crowding the pan. This is important otherwise you'll stew the beef.
Remove from the pan, lower the heat to medium & fry the chopped onion (adding more oil if required).
Then add the turmeric, ginger & garlic, & cook for a few minutes.
Add the tamarind paste, salt, pepper, chillies, ground coriander, cinnamon, sugar & lime leaves. Cook for a couple of mins.
Add the coconut milk (having shaken the cans) & bring to a gentle boil & stir for a couple of mins before adding the beef & stirring for a further 2 mins.
Transfer to a casserole dish with a lid & put into a 150C / Gas 2 oven for 1½ hrs, stirring half way through.
At the end of 90 mins give it another stir and remove the lid.
Return it to the oven for another 2½ hours, checking it towards the end - leave it in for longer, the drier you like it.
Nigel suggests serving on a bed of Thai sticky rice & your favourite seasonal greens.
Grilled Langoustines with Seaweed Butter
by Rosie Birkett
from The Joyful Home Cook (HarperCollins)
photography by Helen Cathcart
Langoustines, nephrops or Dublin Bay prawns are incredibly plentiful in the UK and we should be eating more of them. They make a wonderful canapé or starter for a special meal and are divine simply split and grilled in their shells with this umami seaweed butter. The butter will keep for a week in the fridge or up to 3 months in the freezer.
Serves 4 as a starter
Ingredients
8 langoustines or jumbo/large tiger prawns, split in half lengthways and digestive tracts removed
handful of wild fennel flowers, to garnish (optional)
For the seaweed butter 20g dried seaweed such as dulse or nori
1 shallot, chopped
1 garlic clove, chopped
½ tsp fennel seeds
pinch of pink peppercorns 100g unsalted butter, at room temperature
¼ tsp sea salt
½ lemon, for squeezing
Method
1. First, make the seaweed butter. Using a mini chopper or pestle and mortar, grind the seaweed until it has broken down into small flecks no more than 5mm in size. Put the shallot, garlic, fennel seeds and pink peppercorns into the bowl of a food processor with the seaweed and blitz, then add the butter, salt and a squeeze of lemon juice and blitz again until well combined. Transfer to a bowl and chill in the fridge until needed. If you're making it ahead, lay a piece of cling film out on a clean surface. Spoon the butter into the centre, then roll it up tightly into a sausage shape. Keep in the fridge until ready to use.
2. When you're ready to cook the langoustines or prawns, put them cut side up on a roasting tray and dot with the butter (about 2 teaspoons of butter on each langoustine or prawn). Grill or barbecue for 3–5 minutes, until the butter has melted and the flesh is cooked and just opaque. Serve garnished with wild fennel flowers, if you have some.
TIP: Look out for boxes of frozen langoustines at the fishmonger; they are usually a bit cheaper. You just have to thaw them in a sink of lukewarm water before you split and grill them.
Elderflower tempura with elderflower dipping sauce
From delicious. magazine
Recipe and food styling Linda Tubby
Photograph Laura Edwards
Serves 6
Takes 10 minutes to make
15 minutes to cook
This unusual elderflower dessert recipe is a sweet twist on the classic Japanese dish. A lovely way to end a dinner party.
Ingredients
About 18 elderflower heads
Sunflower oil for deep-frying
1 large free-range egg
250ml sparkling water
125g cornflour
125g fine rice flour
1 tsp bicarbonate of soda
1 tsp baking powder
2 tsp caster sugar, plus about 3 tbsp for dusting
For the dipping sauce:
150ml elderflower cordial
1 tbsp arrowroot powder
Method
Remove most of the elderflower stalks and shake all the heads to remove any insects.
To make the dipping sauce, mix the cordial with 150ml cold water in a small saucepan. Mix the arrowroot with 1 tbsp of the elderflower cordial mixture in a bowl to a smooth paste. Return to the pan and heat gently for 5 minutes until it's just simmering, is clear and has thickened to a coating consistency. Put to one side to cool.
To make the tempura, pour the oil into a large pan and heat to 190°C or until a cube of bread browns in 20 seconds. Mix the egg and the fizzy water in a large bowl. Sift all the dry ingredients with a pinch of salt, add to the liquid all in one go and stir to mix (it doesn't matter if it's lumpy).
Dip the flowers into the batter and fry one at a time until crisp but not brown. Drain on the lined tray and dust with the extra sugar. Serve at once with the dipping sauce.
delicious. tips
For best results, make sure you use the batter as soon as you've made it.
Elderflower, cucumber and gin granita
From delicious. magazine
Recipe and food styling Lizzie Kamenetzky
Styling Polly Webb-Wilson
Photograph Ola O Smit
This easy-to-make dessert recipe for elderflower, cucumber and gin granita makes a great grown-up sweet course for a dinner party.
Makes 10 small bowls
Takes 10 minutes to make, plus freezing
Ingredients
1 large cucumber, cut into quarters
150ml elderflower cordial (see tip)
100ml gin
500g ice cubes
Method
Freeze the cucumber pieces for about 4 hours until solid. Put in a powerful food processor or blender with the rest of the ingredients and whizz until you have a crushed granita-style ice. Serve immediately in bowls straight from the freezer.
delicious.
Tip: If you have a juicy lemon in the kitchen, feel free to squeeze in the juice, or throw a shredded bunch of fresh mint into the mix – experiment with other flavours.
Miso Aubergines with Tofu, Sesame & Chilli
by Rukmini Iyer from The Green Roasting Tin: Vegan & Vegetarian One Dish Dinners (Square Peg)
Photography © David Loftus
Miso aubergines seem to be all the rage, and with good reason – the flavours work beautifully together. This version adds a punchy sesame and lime dressing to liven up both the aubergines and the crispy tofu. Serve alongside fluffy white rice.
Serves: 4
Prep: 10 minutes
Cook: 45 minutes
Ingredients
2 aubergines, halved lengthways
250g firm organic tofu, cut into 1.5cm slices
100g spring greens, thickly sliced
75g miso paste
1 tablespoon sesame oil
2.5cm ginger, grated
2 cloves of garlic, crushed
Dressing
1 red chilli, finely chopped
2cm ginger, grated
2 cloves of garlic, crushed
2 limes, zest and juice
30ml soy sauce
30ml sesame oil
3 spring onions, thinly sliced
To Serve
30g sesame seeds
White rice
Method
1. Preheat the oven to 180°C fan/200°C/gas 6. Cut deep cross-hatches into each aubergine half, then transfer to a roasting tin along with the tofu and spring greens.
2. Mix the miso paste with the sesame oil, ginger and garlic, then rub this into everything in the roasting tin. Transfer to the oven and roast for 45 minutes.
3. Meanwhile, mix the chilli, ginger, garlic, lime zest and juice, soy sauce, sesame oil and spring onions together. Tip this dressing over the aubergine and tofu as soon as it comes out of the oven, then scatter with the sesame seeds. Serve hot with rice alongside.
Note: You probably already have your favourite tofu brand – I've found that the 'Tofoo' organic brand from the supermarket works well roasted.
Smoky pigeon breast salad with pickled beetroot
by Nigel Barden from Jose Souto's 'Feathers – The Game Larder' (Merlin Unwin Books)
photography Steve Lee
Serves 4
Prep time: 15 mins (+ 2-8hrs marinating)
Cooking time: 5 mins
Ingredients
6–8 fresh pigeon breasts (depending on size)
4 tbsp peaty, smoky whisky (Laphroaig, Lagavulin or Talisker,
otherwise a blend like Famous Grouse or Bell's will suffice)
1–2 Lapsang Souchong teabags (or 3 tsp loose tea)
rapeseed oil, or vegetable oil
3 tbsp olive oil
1 tbsp vinegar (balsamic, wine or cider)
340g jar of pickled beetroot
small bag of mixed salad leaves: rocket, watercress, spinach
50g of walnut pieces, pre-roasted in a hot oven for a few mins
salt & pepper
Method
Rinse the pigeon breasts under running water and pat dry with kitchen roll.
Marinate the breasts in the whisky in a shallow glass or porcelain bowl. Cover with cling film and leave in the fridge for a minimum of 2 hours but up to 8.
Tear open the teabags and empty the tea onto a plate.
Remove the breasts from the whisky marinade and turn the breasts in the tea leaves to lightly coat each breast; put to one side.
Lightly pan fry the pigeon breasts in rapeseed oil, allowing no more than a minute or 2 on each side, keeping the breasts nice and pink.
Remove the breasts from the frying pan and allow to rest while you dress your plates.
Make a light vinaigrette using olive oil and vinegar, or a little of the pickled beetroot juice instead of vinegar.
Toss the salad leaves with the vinaigrette.
Arrange the leaves among 4 plates with the beetroot cut into slices. Slice the pigeon and place on top of the leaves then garnish with the walnuts and season with salt & pepper to finish.
by Galton Blackiston from Hook Line Sinker – A seafood cookbook (Face Publications)
photography John Scott Blackwell
Serves Four

For the pasta:
500g '00' pasta flour
8 eggs, use 3 whole eggs, lightly whisked with 5 egg yolks
2 tbsp olive oil
1 pinch of saffron,infused in 1 tbsp boiling water
For the sauce:
1 shallot, peeled, finely sliced
1 tbsp olive oil
1 strip of lemon peel
25ml Noilly Prat vermouth (or Nigel says any vermouth, dry sherry or dry white wine)
120ml whipping cream
50g Gruyère cheese, grated
For the lasagne:
200g fresh white crab meat
4 plum tomatoes, skinned
sea salt & black pepper
olive oil
rapeseed oil
150g baby spinach

To make the pasta
Place all the ingredients into a food processor and pulse to bring together. Turn out onto a lightly floured work surface and knead well. Divide into 4, wrap in cling film and refrigerate to rest for 2 hours.
Cut each piece of dough into 2. Take 1 of the pieces and, on a lightly floured surface, flatten with your hands. Roll the dough through a pasta machine repeatedly, gradually making your way to 2 notches from the thinnest setting. Lay the resulting long strip of pasta on your work surface. Using a 7.5cm round cutter, cut out discs. Repeat with the other piece of pasta dough. You need 2 discs per serving for the lasagne, although I always cut a couple of extra. Allow the pasta discs to dry out while you make the Gruyère cream sauce.
To make the sauce
Fry the shallot in the olive oil until softened, add the lemon peel and vermouth and bring to the boil. Simmer to reduce the liquid by half. Add the cream and Gruyère, bring back to the boil and simmer again. Pass through a sieve into another saucepan and set aside.
To make the lasagne
Pick over the crab meat to remove any pieces of shell, slice the tomatoes, set aside. Drop the pasta discs into a pan of gently boiling salted water. Cook for about 3 minutes, then lift out with a slotted spoon. Quickly season with salt and freshly ground black pepper and add a splash of olive oil. Meanwhile, heat a frying pan, add a splash of rapeseed oil and sauté the spinach until just wilted and season with salt and freshly ground black pepper.
Preheat the oven to 200°C/180°C/400°F/gas mark 6. Lightly oil a large baking tray and lay on 4 pasta discs. Divide the spinach between the discs and top with the white crab meat and 2 slices of tomato. Finish with another pasta disc and spoon over the Gruyère sauce. Place in the oven and bake for 10 to 15 minutes, until bubbling and lightly browned. Serve immediately.
Nigel says if you don't want to make your own pasta, you can use sheets of fresh lasagne pasta, a 250g-300g pack will be sufficient.
If using bought-in fresh pasta, then lightly oil a baking tray / casserole dish and line the base with the pasta sheets (which Nigel had put into boiling, salted water for a couple of minutes to soften). After spooning over the spinach, crab and tomatoes, he finished with another layer of pasta sheets (Nigel used 3 sheets per layer), before spooning over the Le Gruyère sauce.
Penne with Asparagus Pesto & White Beans
by Alice Hart fromThe New Vegetarian (Square Peg / Penguin Random House)
Replace half the basil used in this recipe with mint leaves, if you like; this is a summery affair, intended to coincide with the latter part of asparagus season when the spears are plentiful & cheap. Use any almonds you have in the pesto: flaked, blanched, chopped or whole with skins all work well. Never drain the pasta too thoroughly, as the starch cooking water helps to form a sauce.
Serves 4
Prep time: 10 mins
Cooking time: 20 mins
Ingredients
300g (1 large bunch) asparagus
Sea salt & freshly ground black pepper
350g wholemeal dried penne, or other short pasta shape
Olive oil
1 garlic clove, chopped
25g almonds
2 small bunches of basil
Finely grated zest & juice of 1 unwaxed lemon
3 tbsp extra virgin olive oil
50g vegetarian pasta cheese, finely grated, plus more to serve
400g can of butter or cannellini beans, drained & rinsed
Method
Trim the very ends from each asparagus spear, only removing more if they are woody. Cut off the tips with about a thumb's length of stalk. Set aside.
Bring a medium saucepan of water to the boil, add the trimmed asparagus stalks (not the tips) with a good seasoning of salt & boil for 5 mins, or until tender. Scoop the stalks out & into a colander with a slotted spoon, leaving the water behind in the pan. Give the stalks a brief rinse under cool water, just to take their temperature down a little, & tip into the bowl of a food processor.
Return the pan of asparagus water to the heat, topping it up of needed. Bring to the boil & add the pasta, cooking according to the packet instructions, or until al dente.
Set a griddle pan over a high heat until smoking, toss the asparagus tips with a little regular olive oil to coat lightly & griddle for 4 mins, turning now & then, until coloured & soft. Set aside in the pan.
Put the garlic, almonds, almost all the basil (reserving a few leaves to serve), a squeeze of lemon juice & the extra virgin olive oil into the food processor with the asparagus stalks & blitz to a rough purée, stopping to scrape down the sides a couple of times. Stir in the lemon zest & cheese. Taste & season, stirring in more lemon juice, if you like.
Drain the pasta – not too well - & return to the hot pan with the beans & asparagus pesto. Warm through very gently, then divide between warmed bowls or plates with the griddled asparagus tips, the reserved basil leaves & more cheese.
New potato, spinach and goats' cheese frittata
from Tom Kerridge's Fresh Start – How to cook amazing food at home (Bloomsbury) photography © Cristian Barnett.
Prep time: 15 mins
Cooking time: 30 mins
Serves 4
Ingredients
2 tbsp olive oil
400g new potatoes, finely diced
1 large red onion, finely diced
8 large free-range eggs (or Nige says you can use 10 medium eggs)
100ml single cream
½ tsp freshly grated nutmeg
A handful mint leaves, finely chopped
3 garlic cloves, sliced
150g spinach, chopped
120g goats' cheese, roughly chopped
12 sage leaves
Sea salt and freshly ground black pepper
Method
Preheat the oven to 220C/200CFan/Gas 7. Heat the olive oil in a large ovenproof frying pan over a medium-low heat. Add the diced potatoes with a pinch of salt and cook for 8–10 minutes. Toss in the red onion and cook for a further 5 minutes.
Meanwhile, crack the eggs into a large bowl. Add the cream, nutmeg, chopped mint and some salt and pepper and whisk well. Set aside.
Add the garlic to the pan and cook for 2 minutes, then toss in the spinach and sauté until it begins to wilt. Pour the cream mixture into the pan, stir around for one minute, then remove from the heat.
Dot the goats' cheese evenly over the surface of the frittata and scatter over the sage leaves. Place on the top shelf of the oven for 8–10 minutes until the egg has set and the cheese is golden.
Remove the frittata from the oven and leave to stand for a few minutes to cool slightly before serving.
Tip: This veggie frittata uses a classic combination of flavours, but feel free to vary the ingredients using whatever is in your fridge – diced cooked peppers, onion, peas or mushrooms, crumbled feta or sliced spring onions, for example.
Chorizo & butter bean stew with garlic & thyme
by Rick Stein from Food Heroes (BBC Books)
Serves 4
Prep time: 10 mins
Cooking time: 50 mins (+1hr simmering if using dried beans)
Ingredients
350g (12oz) dried Judion butter beans, soaked overnight (or use 400g tin of butter beans)
225g (8oz) hot chorizo for cooking such as parrilla chorizo picante
50ml (2fl oz) olive oil
5 garlic cloves, thinly sliced
½ medium onion, finely chopped
175ml (6fl oz) red wine
1 x400g (14oz) can chopped tomatoes
1 tbsp thyme leaves
2 tbsp chopped flatleaf parsley
Salt
Method
Put the butter beans into a large pan with lots of water, bring to the boil & simmer for 1hr or until tender. Drain & set aside. (Alternatively if using tinned butter beans, drain & set aside).
Cut the chorizo sausages into thin slices. Put the olive oil & garlic into a pan & heat over a medium-high heat until the garlic begins to sizzle. Add the chorizo & cook until the slices are lightly browned on either side, then add the onion & continue to cook until it has softened.
Add the red wine & cook until it has reduced to almost nothing. Add the canned chopped tomatoes, thyme, butter beans & half a tsp of salt & simmer for 15mins.
Scatter over the parsley, spoon the stew into deep, warmed bowls & serve with some crusty fresh bread.
As a vegan alternative Nigel used Wheaty Seitan Vegan Sausage Chorizo.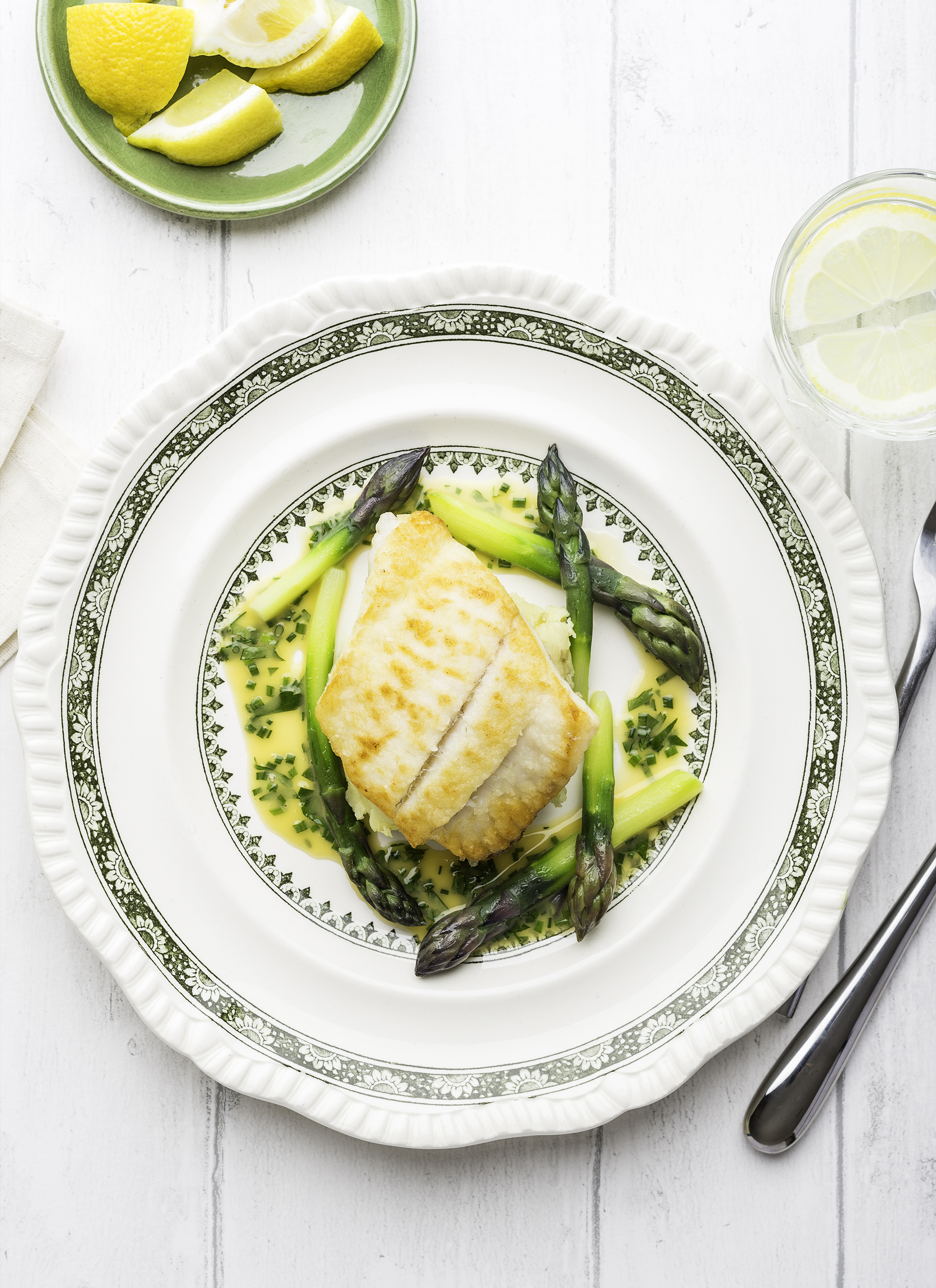 Fillet of brill with crushed Jersey Royals, asparagus & herb butter sauce
from Well Seasoned, exploring cooking & eating with the seasons
by Russell Brown & Jonathan Haley (Head of Zeus)
New potatoes, a delicate sauce & the freshness of British asparagus make this a truly special dish. Make sure that the sauce is well seasoned & has enough acidity to cut through the buttery potatoes. The herbs are really a matter of personal choice but I like the onion note of chives & the fresh punch of flat-leaf parsley.
Brill is perhaps considered inferior to turbot but it cooks in a very similar way & has a lovely delicate texture. Price-wise it is usually a cheaper option than turbot too. Bigger fish will fetch a premium but it is worth a few extra pounds to get a fish that yields thicker fillets. I always choose a bigger fish & freeze any that I don't need for another day. One trick you can use on the smaller fillets is to fold the thinner, tail end under to create a portion that is a more even thickness. As the proteins set during cooking, the folded piece will stick to the top piece.
Serves 4
Prep time: 10 mins
Cooking time: 30 mins approx
Ingredients
½ kg new potatoes, washed/scraped (Jersey Royals, Cornish News or other regional variations)
20-30 spears of British asparagus, peeled & washed
For the sauce
70-80g unsalted butter
2 tbsp dry vermouth
50ml white wine
200ml vegetable stock (see recipe below, or use a good quality ready-made stock, powder or cube)
Lemon juice to taste
Maldon sea salt
1 dsp finely chopped chives
1 dsp roughly chopped flat-leaf parsley
For the fish
2 tbsp olive oil
4 x 150g brill fillets, skinned & trimmed (or use turbot or plaice)
Flour for dusting the fish
Maldon sea salt(or any sea salt)
Freshly ground black pepper
Method
1. Cook the potatoes in boiling salted water until tender. Drain & add 25g unsalted butter. Crush the potatoes with a fork, trying not to work to a mash. Adjust the seasoning & add more butter if a little dry. Keep warm.
2. In a small pan, reduce the vermouth & white wine to a syrup. Add the stock & reduce to approximately 50ml. Remove from the heat & gradually whisk in enough cold unsalted butter to thicken slightly. You want to keep moving the pan off & on the heat, enough to allow the butter to melt into the sauce but not enough to boil it. Adjust the seasoning with salt & lemon juice. Rich & tangy is the result you are looking for.
3. Cook the asparagus in boiling salted water until just tender, drain & add a knob of butter. Keep warm.
4. In one large – or two medium – heavy, non-stick frying pans, heat a couple of tablespoons of olive oil. Season the flesh side of the brill fillets, dust lightly with flour & shake off any excess. Lay the fillets gently into the pan, flour side down. Cook until golden brown on the flesh side, then season the skin side & add approximately 20g unsalted butter to the pan(s). Baste the fish with the foaming butter, then turn over & cook through. Test by pushing a cocktail stick into the fillet; when it is under-cooked you will feel the fibres tearing as you push the stick in, once done it will slide in smoothly. Remove from the pan immediately & drain on some kitchen paper.
5. Warm the sauce & add the herbs.
6. To serve, mound the potato into the centre of four shallow bowls, place the fish on top of the potato & strew the asparagus spears around. Spoon the sauce around the fish.
Vegetable stock
Makes approx. 1.5L
Make 24hrs in advance if possible & it will freeze
Ingredients
2 bulbs of fennel
1 stick celery
1 large leek
1 medium onion
1 small bunch flat-leaf parsley
2 tsp fennel seeds
1 star anise
Method
Slice & wash all the vegetables & place in a large pan.
Add the parsley, fennel seeds & star anise. Just cover with water, bring to a boil & then simmer for 30 mins. Store with the vegetables in until required, but not if freezing.
Warm Salad of Sprouted Peas & Sprouting Broccoli
By Nick Barnard from Eat Right (Kyle Books)
We all yearn for fresh food. And there's nothing quite so vigorous, appealing & tasty as freshly harvested spring vegetables & salads. What is so wonderful about sprouting your own vegetable seeds & pulses for salads is that you can enjoy this spring-like energy all year round. Sprouted peas provide amino acids, fibre, minerals & carbohydrates, as well as vitamins A & C. Purple & white sprouting broccoli is also wonderfully nutritious, & being hardy, will survive frosts & snow. It is particularly welcome in the late winter/early spring, between Brussels sprouts & first spring cabbage. Choose very fresh, short & tender stemmed sprouting broccoli, or discard ruthlessly the fatter, woody stems.
Serves 4
Prep time 10 mins
Cooking time 10 mins
Ingredients
As much extra virgin olive oil, lard, ghee or coconut oil as you like
3-4 large handfuls of short stemmed, very young & fresh sprouting broccoli
150g sprouted organic peas (Nigel said you can use everyday garden peas)
A bunch of flat-leaf parsley, coarsely chopped
Flaked sea salt & freshly ground black pepper
Method
Melt/heat your favourite fat in a wok or frying pan over a medium heat. I prefer a slightly caramelised ghee as this adds a subtle nutty flavour.
Throw in your sprouting broccoli & sauté quickly, tossing & turning; after a few minutes add the peas. Continue to toss & turn lightly for a minute or two.
Pour over any remaining fat & mix the parsley into the salad.
Season as you see fit. Serve warm or at room temperature.
Variations
Sauté some bacon& lightly cook your sprouted peas in its fat.
Stir-frysome coarsely chopped mushrooms, especially chanterelles – add some roughly chopped garlic, before adding your sprouted peas.
Garnish with coarsely chopped parsley.
Fry the sprouted peason their own in butter, just for a few moments, add a sprinkle of flaked sea salt & coarsely ground black pepper, & enjoy wiping out the bowl with a slice of sourdough bread.
Note from Nigel: I crumbled over some Greek Feta cheese & served alongside it, Binary Botanical, a 4% bevvie brewed with organic hop leaves in Billinghurst, West Sussex, which tastes like an intriguing dry Prosecco.
The non-alcoholic drink is also brewed from hops (Amarillo & Cascade), but only to 0.5% abv, by the talented team at Thornbridge brewery in Bakewell, Derbyshire.